Driver Training in Liverpool
From a novice to an experienced Learner driver we offer a full range of driver training to help you get your full driving licence!!
get more info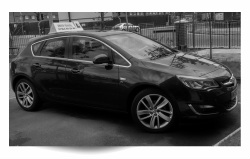 (1) Our Vauxhall Astra SRi is fully dual controlled & has air con for your comfort.
(2) An average size 5 door hatchback & is an ideal tuition vehicle.
(3) All Driving Lessons will be full 1 or 2 hours! We teach 7 days a week.
Many years Registered as an Approved Driving Instructor.
Up to date Driving Techniques resulting in HIGH PASS RATES.
Professional Driving Lessons at Low Prices.
All Welcome Including Nervous Learners.
Pick up / Drop off home or workplace.
P
ositive
A
ttitude
S
ecures
S
uccess
GOOD TUITION GETS BETTER RESULTS